The 2020 Trends for Fall Flowers
Flowers are not the first thing to come to mind when we talk about fall. That's understandable - we tend to associate flowers with Spring and Summer when there's a range of colorful, fresh options in season.
But, flowers can make a difference, especially as they grow darker and shorter, and our mood seems to match the dropping temperatures. True, a fall floral arrangement might not be as vivid as a Summer one, but that doesn't mean a lack of options to brighten up the day.
In fact, fall comes with its own scope of possibilities: from textures and deep shades to flowers that only bloom this time of year, such as chrysanthemums, this is a season that allows for a more unique and sophisticated floral composition.
To help you pick the flowers that can make for a powerful arrangement this fall, Miami Gardens Florist put together a few suggestions based on the 2020 season trends.
Warm, Textured Arrangements
Differently from the spring or summer, when bright, playful colors run the show, fall season asks for rich, lush arrangements that go beyond just the choice of hues. Playing with textures, for example, by mixing a variety of contrasting flowers playing with size and feel, or experimenting with a combination of warm and soft tones - such as red, orange, and yellow, the three main colors for 2020 - is a way to add dynamism to any space. Our Bountiful Blooms arrangement combines a variety of seasonal flowers which at first glance, look too different to match one another. However, it's their diversity that makes this arrangement stunning.
Sunflowers
They bloom at the end of summer, all the way through October. Naturally known as "happy" flowers, they symbolize adoration, loyalty, and longevity, and can add a pop of life to any room - regardless of the weather outside.
Sunflowers work well when contrasted with the denser, more subtle hues that are prevalent in the fall, bringing a distinctive element to any mix. But they also do great on their own - set them up as a centerpiece of any room for a natural and immediate mood booster.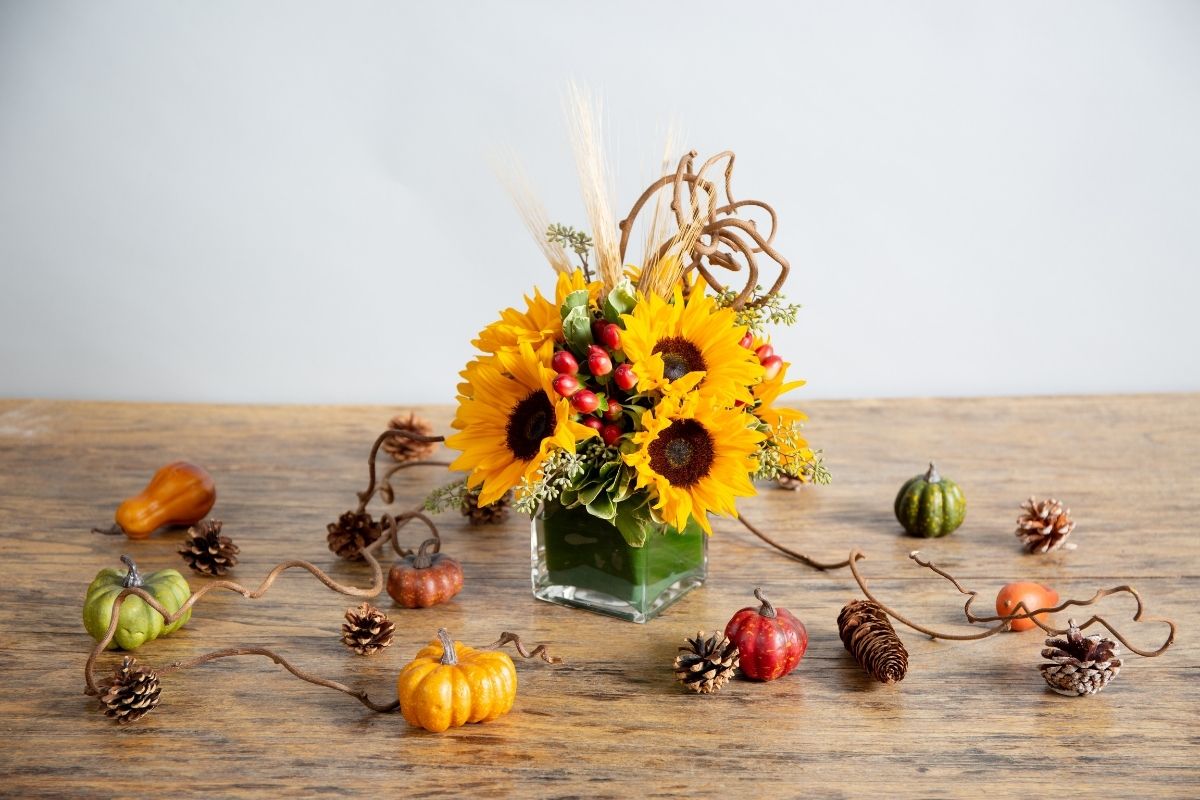 Classic Red Roses
You can never go wrong with roses. More than just a classic, they're versatile - in hues and style - and can easily enhance any arrangement. For a distinctively fall touch, however, go with red roses: a particularly trendy color for the season this year. The red adds warmth, sophistication, and a hint of drama that makes any fall decoration anything but boring.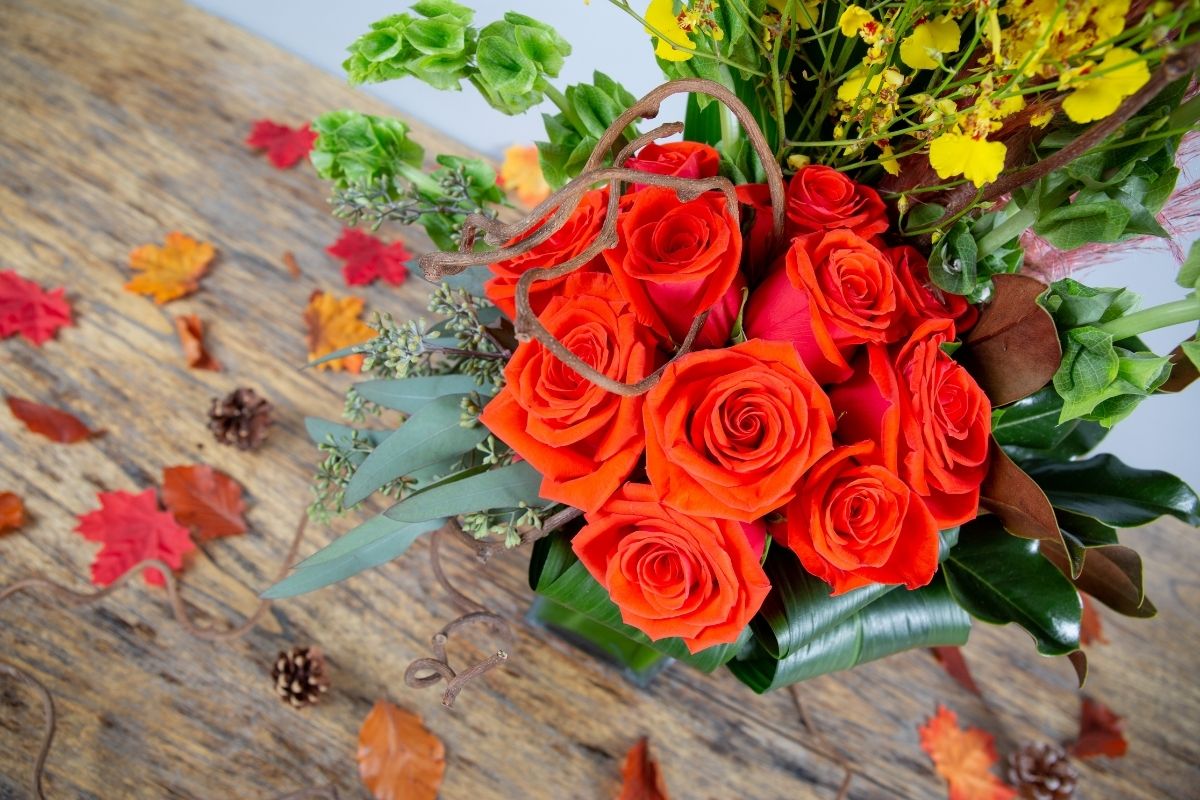 Lilies
Of course, fall is also a season that revolves around the theme of gratitude and remembrance, as the year draws to a close. Flowers that resonate with that feeling, such as the yellow lilies, which symbolize thankfulness and a desire for enjoyment, can bring a mellow but uplifting touch to any environment, as well as make for a thoughtful gift.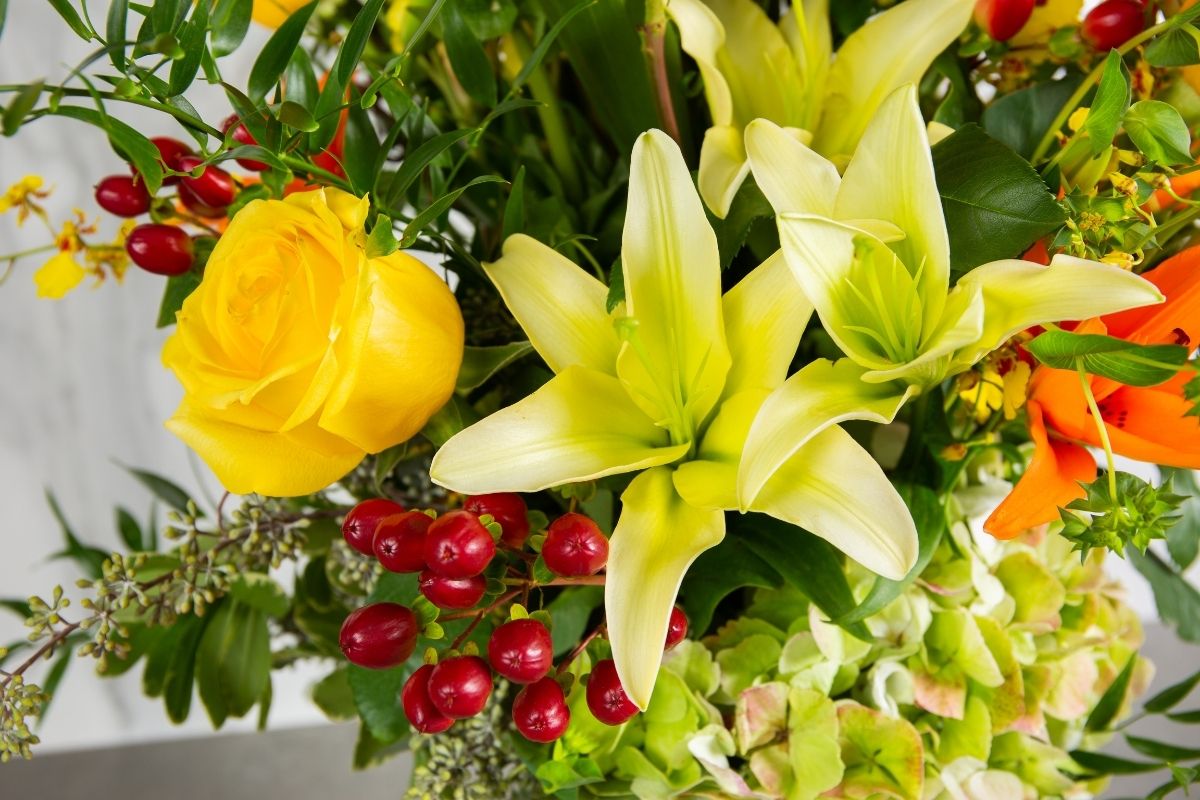 All in all, fall asks for vibrant and more dramatic arrangements that combine warm colors, different textures, and unique flowers that only bloom this time of the year.

Of course, when in doubt, you can always count on Miami Gardens Florist to help you pick or even create your own arrangement. Visit our website or call our store and let's get started.